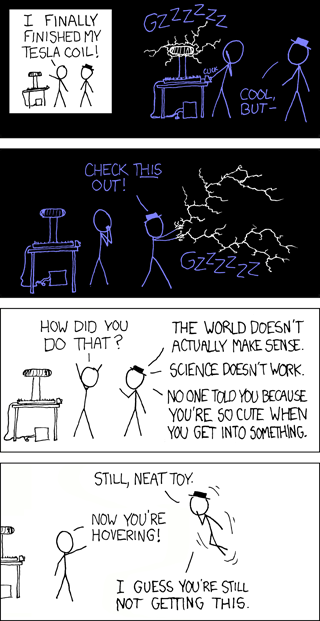 As you may recall, for this round of the Public Radio Talent Quest, we were asked to conduct an interview with anyone, so long as they weren't a friend or relative. In response to my previous call for help, I got a lot of great suggestions, including one from Melusine: Randall Munroe of XKCD.com. Randall quickly agreed to help me out with an interview, and we met the Wednesday before last to record.
Randall is, as you may suspect from reading his comic, smart and funny. We enjoyed some lemonades before and after the interview (well, I had a celebratory beer after) and had a great time talking. Hanging out in the studio doing the interview felt very natural, like a normal conversation you might have even without headphones and mics and a ticking clock. After the show we were joined by Adrianne from PRX, who had come to make sure everything went smoothly but stuck around because she is also a fan of XKCD. All around, I enjoyed it all so much that it was totally worth the time and effort it took to get to this stage of the contest.
So now, I once again need your support! You can hear an excerpt of my interview with Randall by clicking here:
http://www.publicradioquest.com/node/2551
And giving me however many stars you think I deserve (preferably five or more [before you ask, that's a joke, five is the most you can give]). Then, stick around and listen to some of the other finalists, all of whom have made a wonderful effort to make this an entertaining and diverse round.