Feminism
How Internet Trolls Improved My Self Esteem
I've never been a shy or unsure person, but I grew up a girl in the US, so of course I have a set of insecurities I've nurtured over the years, like worrying that I'm fat, or that my nails are all broken and busted, or that I'm too hairy.
As you may be aware, a few years back male supremacists, mostly atheists and skeptics, started regularly attacking me online. Some of them send death threats, some rape threats, and some gendered slurs. Many of them, though, choose to insult my various features in an attempt to make me feel bad about myself.
The easiest of those to deal with, at first, were insults regarding my intelligence. One of the awful consequences of early '90s "Gifted and Talented" programs was instilling kids with an unshakeable confidence in their own smartness, and I am one such result. There is literally nothing you can say to me to make me think I'm not smart. Even if I'm standing in a zoo's bear enclosure waving around a slab of raw meat, I will know that I am doing the intelligent and sensible thing regardless of what you say. I know, it's a real problem.
Then there were the insults about my body. As I said, I have insecurities. Obviously. Back when the insults began in earnest, it would have been shockingly easy to hurt my feelings. What I realized, though, was that the trolls were so terrible at it. The earliest trolls were so bad that I made a YouTube video helping them out:
They seriously would try to insult my eyebrows, one of the few physical attributes that I have zero insecurities about. I have awesome eyebrows. Every few years, "strong" eyebrows come into fashion and so not only do I have objectively awesome eyebrows but I often have stylish eyebrows, too, and I don't even have to pluck that shit very often.
This sort of thing happened over and over and over again. Last year some time I got a message from someone on YouTube trying to make fun of me because my eyes were too far apart. When I was a teen, I used to worry that my eyes were too close together because I read somewhere that that was a trait associated with low intelligence and I wanted to look as smart as I felt.
So there we have an old and buried insecurity that has, ironically, been completely and utterly evaporated by a troll.
After several years of thousands of men devoting tens of thousands of messages and posts to attacking my physical appearance, the thing that has stood out the most is that there is no consensus about what features I should be embarrassed about. If I really did have some feature I should be ashamed of, surely this flood of hatred would have pinpointed it.
Instead, I get insults like this:
https://twitter.com/stefandiamante/status/464618877037838336
This person was trying to insult me, but in order to insult my appearance he had to compare me unfavorably to this woman:
My thought when I realized that: "Holy shit, I must be pretty fucking good looking."
The same was true a month back when a friend sent me this Tweet:
@DavidKennerly @RichardDawkins this ones also hits pretty close to the mark, doesnt it @rebeccawatson !http://t.co/L5aJtx0mb7

— thunderf00t (@thunderf00t) April 2, 2014
Which links to this amazing image: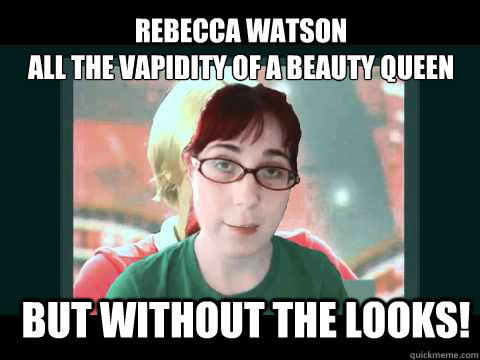 For those who can't view that, allow me to describe it. It says, "Rebecca Watson all the vapidity of a beauty queen but without the looks!" And there's a picture of me, but that picture is obviously a low resolution video still in which there's an artifact over my face that, at first glance maybe, looks like my mouth is a little deformed, like a cleft lip. The image of me has been cut out and pasted over some other image but I can't tell what it is or why that was done.
Again, this was my first thought upon seeing that image: "I am so fucking good looking that in order to insult my physical appearance they had to pause a video at just the right time and then take a screenshot of the distorted result."
So here I am, years after the start of an unending campaign of bitter hatred focussed on me, and I've honestly never felt better about myself. It's actually had a negative impact on my life because I've been shopping more for new clothes, because I feel so good about my body and the way I look that I constantly want more cool things to wear.
But on the positive side, I think it's actually encouraged me to get back into being more physically active. I had a pretty catastrophic back breakage a few years back that made it difficult for me to exercise, but feeling better about my body has motivated me to work on it and get back into fighting shape. I'm now running a 5K every other day or so.
So anyway, the moral of the story is that I'm super good looking and the trolls know it, the end.