Feminism
Not Responding to Dangerous Road Rage Means the Trolls Won
Yesterday, I was driving home from a friend's place around dusk. I approached a traffic light at which I was turning left. I had the green light but a car was approaching from the opposite direction, with no lights on or turn signals. I waited for them to go through the intersection, but at the last minute they turned right without using their turn signals.
When they started turning, I started taking my left. Suddenly, a man in a truck behind me started laying on his horn, apparently angry that I had waited a moment to verify that the car was in fact turning and not going through the light. He revved his engine and tried to pull around me to my left as I took the turn, but then had to fall back as there wasn't enough room.
Once I had completed the turn, the man gunned past me on the left while laying on the horn, and as he passed me he quite purposely veered hard into my lane, causing his truck to tip violently before he veered back to the left, and causing me to hit the brakes and move into the right shoulder, which was thankfully clear. He then sped ahead of me, where he was forced to stop at a red light.
It was a bit scary, though my initial reaction was to laugh with disbelief that someone got that angry over waiting an extra 10 seconds at a light that he nearly killed us both. I slowed down so that I wouldn't pull up right next to him at the light, since I had no idea what else he might do if he was willing to already go that far. I stopped at the light and took a photo of his truck, figuring that if he did escalate then I'd have some recourse with the police.
Luckily, when the light turned green, he sped off in another direction as I got on the highway, and I was able to continue home with no other problems.
When I got home, I decided to put the photo on Twitter, because fuck that guy:
Open tweet to this guy: purposely swerving into my lane to scare me doesn't actually make you the cooler driver. pic.twitter.com/JPH8TVdNon

— Rebecca Watson @SF Sketchfest (@rebeccawatson) April 23, 2015
I forgot that this was the perfect time for idiots on Twitter to tell me things. At first, I thought the worst would be advice that was simply useless:
@rebeccawatson taking pics and/or tweeting while driving isn't all that cool either. Just sayin'

— randytoad (@randytoad) April 23, 2015
Since I wasn't driving when I took the photo (obvious from both the brake lights and the lack of motion blur), and I didn't even Tweet it until I was home (obvious by the time stamp and the fact that the pic was clearly taken at sunset), and I had to take a photo if I wanted to document the person who had just committed an actual crime that could have resulted in my injury or worse, and even so taking and tweeting photos while driving is not at all equal to purposely trying to run someone off the road, this advice is merely the annoying and insulting result of someone who skipped over obvious facts in the rush to shame me for being a hypocrite.
@randytoad oh wow thanks that's like a huge revelation to me, I'll make sure to continue not doing that.

— Rebecca Watson @SF Sketchfest (@rebeccawatson) April 23, 2015
That's par for the course on Twitter, and I generally now just mute these types of "helpful" advice-givers and move on. (Update: he apologized.)
But then another man stepped up to prove that he could be even worse:
@rebeccawatson @randytoad You should have pulled along side of him and told him the same. Sarcasm notwithstanding.

— Dark Star Bomb 20 (Adam Sowa) (@DarkandtheLight) April 23, 2015
This is such terrible advice that I had to read it several times to figure out whether he was actually being sarcastic. To recap, a man in a truck tried to run me off the road, and this genius wants me to know that the best thing to do in the future is to pull up next to him and start a conversation.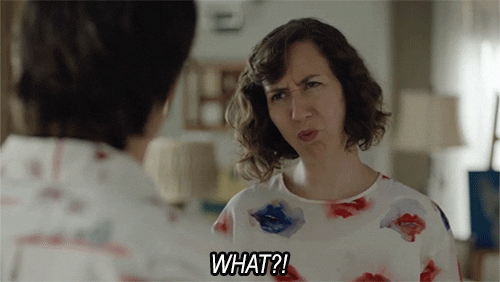 This may be the all-time stupidest advice anyone has ever given me, and I say that as a person who gets unsolicited advice from man-babies pretty much every day.
And as I was typing up this quick post, he made it a thousand times better:
@rebeccawatson @randytoad This is how "trolls" win and cower you. Not everyone is a danger. If that is all you look for, that is all you see

— Dark Star Bomb 20 (Adam Sowa) (@DarkandtheLight) April 23, 2015
This is how the trolls beat me, you guys. This is how it happened. This is how I ended up here, cowering, by which I mean eating a sandwich while typing words on my popular website. Had I pulled up next to the person who had just tried to use a 2-ton vehicle to hurt me and politely told him, I don't know, "Hey guy, don't do that," everything would have been great.
But no, I took the coward's route by continuing to drive safely home, and thanks to that I have lost. The trolls have won. RIP feminism.