In this episode of #AskAChemist, I answer a question for mammalogist and field biologist @DNLee. She works with pouched rats and, very shortly, a fog machine.
The not-so-secret recipe Dr. Lee's fog machine uses to generate fog requires distilled water. "Why can't I just use tap water? It'll work in the recipe the same," said Dr. Lee. Water is water, right?
H2O is H2O is H2O. Thing is, tap water isn't just H2O. Tap water contains all kinds of stuff other than H2O. Here in the US of A, our tap water is generally safe to drink partly because we add stuff to our municipal water to disinfect and protect. We also add fluoride to our water for dental heath. Organic compounds are in there too! Our water might be okay to drink, cook with, and bathe in, but it's not the best choice for fog machines, humidifies, and more sciency (and expensive) scientific instruments. Why?
Solids. All that other stuff besides H20 in tap water can be left behind when water is raptured* inside fog machines. This left behind solid gunk all over the internal parts of a fog machine builds-up with use and funks things up. And not the good kind of funk. To keep the fog machine tip top, you gotta…
…to distilled water. Distilled water has already gone through the rapture – left behind cycle, just not inside the fog machine. In distillation, we collect the raptured* water and condense it to get liquid water. This liquid water is more pure because it's free of the left behind stuff.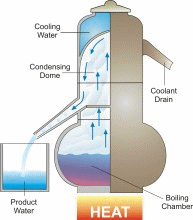 The more distillation cycles tap waters goes through, the more pure it is and the less gunk it'll leave behind in our fog machines, humidifies, and more sciency (and expensive) scientific instruments. How much is this water upgrade? You can get a gallon of distilled water for <$1 at Walmart. If you want distilled water that's been verified and comes with a fancy report, ChemWorld offers a 4-pack of 1-gallon jugs for $49.99.
__________
*evaporated
__________
HIMYM's Barry gif from Buzzfeed
10th Doctor gif from tumblr
Beyonce gif from tumblr. Enjoy her 'Upgrade U' video here
Undercover Brother gif from tumblr
Distillation gif from USGS
TDFW gif from Buzzfeed