Skepticism
Treating Depression Is Not Making Sadness A Disease
One of the criticisms I often see leveled at therapy and medication is that it's turning basic human emotion into an illness. There was a huge outcry of this when the DSM V took out the grief clause from the diagnosis of depression (previously one could not be diagnosed with depression 6 months after a major loss), people often remind us that ADD is just having a lot of energy, and in this otherwise lovely article about chronic depression, one psychiatrist remarks that "We've reached a point where if you are not actively experiencing 'happiness' then you feel you are ill. And if your friends and family think you aren't happy enough or making them happy enough, they advise a trip to the doctor. "
Many people point towards these sorts of indicators to mean that psychiatrists, psychologists, and the whole edifice of mental illness treatment exist simply to inform us that any "negative" emotions are bad and we should only ever feel happy.
Now don't get me wrong, I do think there are many ways that our society fetishizes happiness. Many people find ways to run away from any negative emotions, and those who do openly act down or angry or sad are generally encouraged to do whatever they can to change that. Those of us with fairly pessimistic temperaments are accused of self-sabotage, of choosing a bad attitude, of being debbie downers. No one really much wants to be around us and we are informed in no uncertain terms of that fact. Happiness is success apparently.
But where I do want to differ from these criticisms is that they seem to equate the treatment of depression, especially low level depression, with our society's inability to handle negative emotions. These are two very different things. Depression is not the same thing as being sad or down or unhappy, and providing treatment for those who feel that their emotions are out of control is not the same as telling us we have to be happy.
There's an odd perception from those who haven't actually experienced therapy that it's about getting rid of all the bad feelings and that the end goal is to create someone who is happy clappy skippy doo. At the very least, people who go to therapy are supposed to come out "well adjusted" which for some reason is often associated with a Stepfordish oddness or calmness. We might imagine Chris Traeger bouncing around like a hyperactive puppy when we think of those who have overcome depression (this is probably not helped by shows like Parks and Rec including characters such as Chris Traeger who go to therapy and come out terrifyingly chirpy).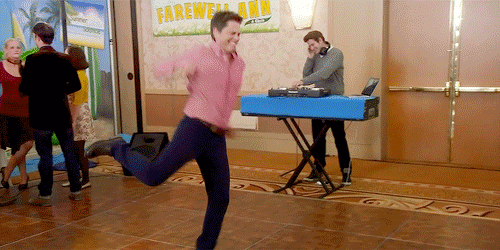 (not me, even though I go to therapy and take meds)
Therapy, and especially meds, supposedly change who you are. They take away your "real" emotions and replace them with scary, socially acceptable ones. In someone's mind (I'm not sure whose, but it appears to be in many think pieces), this is forced upon you. Somehow you have magically perfect insurance that covers mental health issues and so when your spouse/friend/boss/school demands that you go to therapy you're suddenly whisked away to a land of pills. You have no choice, and soon this will happen to all of us.
In reality, this is exactly the opposite of the experience that I have had with therapy. In the real world, it's actually quite difficult to get therapy (and especially appropriate therapy). In reality, therapy spends a lot of time making you think and talk about things that feel miserable. It does in fact encourage feeling miserable, at least for a while. One of the main elements of therapy for me has been learning that negative emotions are necessary, provide information, and can be tolerated. I have learned tools to be able to feel bad and not immediately spring to fix whatever is wrong (which oftentimes is nothing).  My therapists have repeatedly told me that they want to find the appropriate place for all of the elements that make me up, including such winners as ennui, existential angst, and an overactive sense of guilt.
Here's the clear and defining line between depression and normal, healthy sadness: depression affects your ability to function as you would like in your life. Whether that's because it's major depressive disorder and you have reached a point where you can't shower in the mornings or whether that's because it's pervasive depressive disorder and you've felt low level emptiness your entire life that has been leaving you exhausted and cranky all the time, what makes something a problem is when it starts to interfere with someone's life in a negative way. Now this isn't as clear and defining of a line as we would like, but there it is and most individuals would be able to tell you if they feel like their emotions are getting in the way of their life.
Treating depression, whether with medication or with therapy, is about allowing an individual to function again. A functional human being feels painful feelings sometimes. One of the most obvious examples of the ways in which treatment of depression is actually antithetical to happiness obsessions is in mindfulness practices, particularly DBT. These ask an individual to simply notice their feelings without judgment, letting them happen without trying to change them. This is the exact opposite of trying to eradicate sadness.
One of the many reasons that people often end up in therapy or on medication is because they have been too afraid to honestly look at their negative emotions, feel them, and let them go. Of course there are some therapists and clinics that may go too far and end up treating any negative emotions as problematic, but overall the profession's aim is to help people who are struggling.
The other piece of the puzzle is medication, which many people view as a "quick fix" for those who refuse to deal with their problems and just want to be happy all the time. Now I haven't been on every medication ever so I can't speak to all experiences, but that really is not how medication works most of the time. I have never had medication actually lift my mood, it simply has held back some of the negative so that I have space to work towards positive for myself. It allows me to go about my daily life in a relatively normal manner so that I can find ways to be effective long term. Again, it's about keeping depression from drastically impacting my life.
Perhaps the reason that so many people point towards the prevalence of therapy and medication in our society as evidence that we refuse to be happy is because of a basic misunderstanding of what those treatments do. If someone's emotions are keeping them from achieving their goals in life, from having relationships, from effectively doing their jobs, then the aim of treating those emotions is to help that person live their life. That doesn't require happiness, but it does require the ability to cope with negative emotions.
I do think that it's important to address our societal phobia of sadness, grief, and pain. But the way to do that is not to throw the mentally ill under the bus by implying they are running from their negative emotions when they seek out treatment. It also doesn't mean casting shade on the few tools for treatment of mental illness that we actually have evidence are effective. A diagnosis of depression does not say "this person is too sad". It says "this person can't function the way they would like to because their emotions are consistently out of control". There is a world of difference between those two statements.
Crossposted from Teen Skepchick