Yesterday, if you were reading CNN, you might have found yourself suddenly confronted with this Op-Ed piece by Deepak Chopra: My Take: Science and spirituality should be friends.
Oh dear.
If you are like me, just the name Deepak Chopra rings warning bells. In fact, it doesn't even have to be his full name. Deepak is enough. Hell, I've been known to twitch at the word "Chop" which makes watching infomercials late at night troubling for my loved ones, to say the least.
Chopra is actually a medical doctor (an endocrinologist to be specific) who realized he could make more money help more people by getting white people to swallow a load of bullshit eastern mysticism focusing on alternative medicines and New Age spirituality.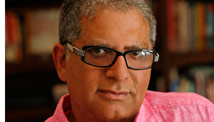 He currently runs the Chopra Center where you can sign up for programs to "Experience panchakarma detoxification therapy", "harness the power of Coincidence" through something called "Synchrodestiny" (wasn't that a band in the '80s?) or "meditate with Deepak" all for prices ranging from $800 to $4,000.
As you can probably guess, I'm not a big fan of Deepak. He plays on the fact that he's Indian to make it seem like he has a direct line to all things spiritual. But above and beyond that, he peddles ayurvedic treatments (at a price) and uses his scientific background to give himself credibility that he simply does not have.
In today's CNN post, he espouses the opinion that the gap between religion and science is getting smaller:
I'm thinking instead of Charles Darwin, whose theory of evolution has proved victorious over the Book of Genesis and its story of God creating the universe in seven days. Since then, God has been found wanting when measured against facts and data. With no data to support the existence of God, there is also no reason for religion and science to close the gap between them.

Yet the gap has indeed been closing.

Religion and spirituality didn't go away just because organized religion has been losing its hold, as suggested by showing decades of declining church attendance in the U.S. and Western Europe.
Well, I suppose that is *technically* true in that religion and spirituality still EXIST IN THE WORLD. But I think Deepak is implying that just because people aren't going to church, they are still finding religion in other places and are still highly spiritual:
…two trends in spirituality and science have started to converge. One is the trend to seek God outside the church. This has given rise to a kind of spirituality based on personal experience, with an openness to accept Eastern traditions like meditation and yoga as legitimate ways to expand one's consciousness"
But a survey from Gallup (the organization where Chopra is actually a 'senior scientist') in 2009 showed that religiosity is far higher in the world's poorest nations; not in the U.S. or Western Europe. In addition, another Gallup poll from the same year showed that an increasing number of Americans claim little or no religious identity at all.
Maybe you could argue that the fact that the practice of yoga and meditation has risen in popularity over the past few years. But I would argue that yoga itself is evolving to be more of a physical and less of a spiritual endeavor. Believe me, when you're in a room heated to 105 degrees Fahrenheit and trying to get your toes to touch your forehead, being one with the universe becomes a lot less important than not falling the hell over.
But whatever, Deepak, I'll give you your God of consciousness, the spirituality that resides within our own selves and minds. Or I would, if you didn't then follow it up with this steaming pile of what-the-fuck:
Twenty years ago, a respectable researcher couldn't ask daring questions such as "do we live in an intelligent universe?" or "Is there mind outside the body?"
That's because materialism rules science; it is the core of the scientific worldview that reality is constructed out of physical building blocks – tiny things like atoms and quarks – whose motion is essentially random.
Um. What?
Do we live in an intelligent universe? Is there mind outside the body? I'm pretty sure science STILL can't ask questions like that, not because they're not 'daring' enough but because they are not testable enough. At least not without additional clarification.
How do you define an intelligent universe? If you hypothesize there is mind outside the body, where would it be? I've had a half-drunk cup of tea on my desk at work for about a week now and I'm pretty sure it's smarter than I am by now. I could test for intelligence in it much more easily than I could test for intelligence in the nebulous 'universe' or 'outside the body.' Get specific, Chopra!
My conference, called the Sages and Scientists Symposium: The Merging of A New Future, is only one in a wave of gatherings through which hundreds of researchers are working to define a new paradigm for the relationship between spirituality and science.
Oh, for fuck's sake. That's what this is all about? Another goddamn conference ($1,995) that Chopra is selling us? What the hell? Kudos to him for getting CNN to give him that much free ad space, I guess.
It is becoming legitimate to talk of invisible forces that shape creation – not labeling them as God but as the true shapers of reality beyond the space/time continuum. A whole new field known as quantum biology has sprung up, based on a true breakthrough – the idea that the total split between the micro world of the quantum and the macro world of everyday things may be a false split.
See what he did there? He took a completely nonsensical sentence (the clue was the use of the term 'space/time continuum') and tried to legitimize it by referencing an actual scientific field. And, something that Deepak is famous for, included the word 'quantum' in the hopes that it would actually read as "this is too complicated for you to actually understand but trust me I'm a scientist and know what the word quantum means."
If so, science will have to account for why the human brain, which lives in the macro world, derives its intelligence from the micro world. Either atoms and molecules are smart, or something makes them smart.

That something, I believe, will come down to a conscious universe.
Fuck you, Chopra. What the hell?
That doesn't even mean anything. Smart molecules? Intelligence in the micro world? Now you're just throwing words out and hoping that everyone clicked the link to your conference and didn't bother to read all the way to the bottom of the article.
Agree or disagree, you cannot simply toss the question out the window.
Wanna bet?
It turns out that the opposition of science to religion is a red herring. The real goal of a new science will be to expand our reality so that spiritual truths are acceptable, along with many other subjective experiences that science has long dismissed as unreliable.
That's actually true. If you define "a new science" as "unscientific claptrap from a person who really doesn't understand what science is." But the line that really makes me crazy is this:
We are conscious beings who live with purpose and meaning. It seems unlikely that these arose form a random, meaningless universe. The final answer to where they came from may shake science to its core. I certainly hope it does.
Oh Deepak.
The universe isn't random or meaningless. If you believe that the only way you can find meaning and purpose is to have a creator, then I pity you. The universe has order and structure and phenomenal beauty.
If you can't see that in the science of a dying star or a solar flare then I feel sorry for you. We are, indeed, creatures of purpose and meaning. And science doesn't need to be shaken to its core to understand that. I see purpose and meaning in every new discovery I read.
What could be more meaningful than people working to make burn victims recovery faster and safer? Or learning how a solar-powered hornet turns light into electricity and figuring out what we can learn from that. Look at the real, tangible things that science is learning every day, Deepak. It might shake you to your core instead.