Over the Newtonmas holiday, my fiance and I visited my parents. While at my parents' house, we watched a hilarious movie called "Idiocracy" where everyone in the future has become incredibly dumb. Well, at least in America where the movie is set.
The basic premise of the movie is explained in this clip:
I'm not an expert on evolution and biology, so I wanted to put this out there to see what you think. I laughed off the premise at first, but then I began to wonder. Is this something the world has to worry about? Should skepchicks and other smart people start breeding as fast as possible? Is there any truth to this premise at all or is it complete garbage? If so, why? Please direct me to further reading.

Whatever the future of the human race– idiocracy or smartskeptocracy– having children is something that I wonder about. I haven't quite figured out when I'm going to have kids. In a few days I will turn– gasp– 27. I am becoming quite old, and my eggs and uterus are aging. My mom had me when she was 23, so I should have a 4-year-old if I were following in her breeding footsteps. I am engaged, and I want children. However, I am nowhere near ready. Currently, my fiance and I live on different continents. I have a year of my PhD left, then I'm moving to South Africa for at least a year, and then there's that fellowship to live abroad (in yet another country) that I hope to obtain.
After all this- at age 31 or so- I'll probably have kids. But I can't wait too much longer than that. I don't want to. Sure, these days many older women do have children, but it is harder to become pregnant and all sorts of risks increase. Also, I want to be somewhat young when my children grow up. A scientist I know just had his second child at age 51 (his wife was 45). That means that he'll be pushing 70 when his kid graduates from high school! Sure, people are living longer these days, but I don't want to be an old mother. I want to be a hot skepchick momma.
Actually, for a long time I didn't want biological children at all. I thought– and still do think– that a responsible choice is to adopt children. The world is already incredibly overpopulated, and I feel that I could provide an excellent home for an adopted child. Also, pregnancy frightens me. I mean, come on, you have a little parasite inside you for 9 months and then it comes out and you still have to feed it every few hours. It's a good thing little babies are so cute. My fiance wants at least one biological child, so we'll probably have at least one of our own children. After watching the "Idiocracy" movie, my fiance said, "See? We owe it to humanity to produce biological children. We're both smart, so chances are our children will be smarter than average."
Right. I guess we'll get on that… right after I finish my PhD and we have a wedding and travel the world and live abroad for a year for that fellowship… oh dear…
Edited to add:
Thanks for all the comments. A link to this comic was put in the comments, and I like it so much I decided to add it to my post: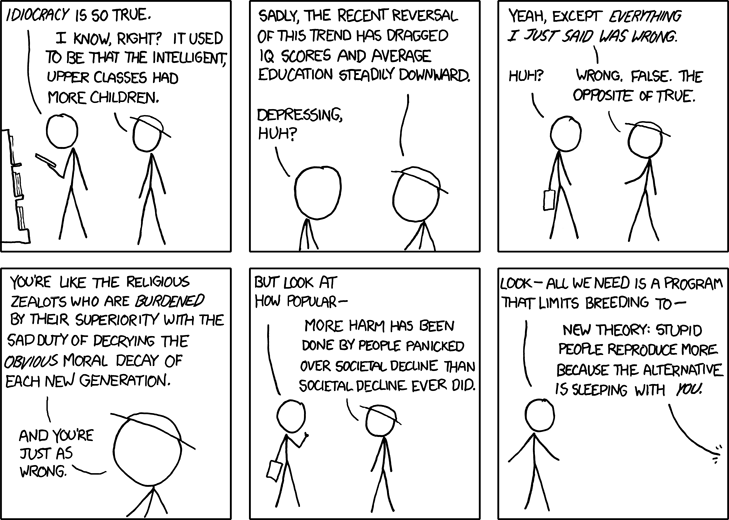 You can see the original comic at xkcd here.