Guest Bloggers
Science
Reader Rants: What Scientists actually do (Violent J? You there?) – Kirsten Mackenzie
Scientists may be always pissing off Violent J and Shaggy and lying to them about how fuckin' magnets work (which, yes, are lyrics that I am still amused by and believe with every bit of my soul that J's profound questions about the universe will be the topic of philosophical Juggalo debates for centuries to come… provided weed and Faygo still exist for centuries to come), but Kirsten sees it a little differently. She claims that perhaps it is not the scientists who are lying, but some assholes in between Shaggy and the scientists, or maybe even Shaggy himself, who are the liars.
I admit, this was not submitted to me as a direct rebuttal to Insane Clown Posse's Miracles, but it's my feature, and I can frame this however I want! Â Anyway, on to Kirsten's rant:
Scientists, not lying about magnets
Kirsten Mackenzie
If there's one thing I hate, it's ignorance. Ignorance, in my opinion, is the only true stupidity because it not only requires an absence of knowledge, it requires someone to willfully turn their cheek against new information. One of the most prolific forms of ignorance that I see these days is the belief that common folk know waaaaay more than those nerdy, lab-bound scientists who are always telling us to change the way we do things. Take, for example, the caller to the CBC the other day.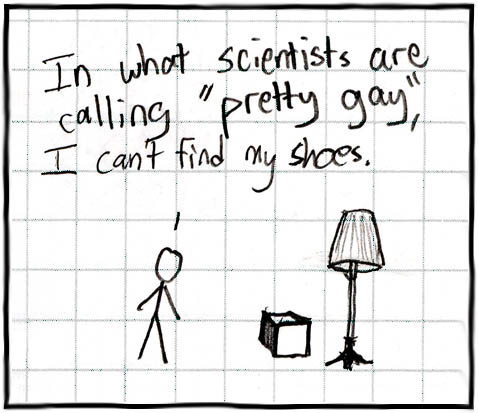 The noon-hour show, BC Almanac was discussing the recent recommendation from the David Suzuki Foundation (backed up by a host of scientists in peer-review) that at least 50% of British Columbia be "conserved" in order to limit the impacts of global warming and provide a buffer for species that will need to adapt to a warming climate. I put "conserve" in quotation marks because they weren't actually advocating that we set aside half of the province in a giant no-touch zone.. rather, they were advocating a more science-based management scheme that would address the needs of whole ecosystems. Forestry would still be allowed, but it would be managed differently. Ditto with other forms of land use. Sustainability would be promoted, and more effort would be spent on replanting forests, salvaging already cut wood, collecting waste material for biofuels, etc..
And of course the first caller was someone who didn't believe a word of it.
"The government already set aside 12% of the province in parks and that's enough. We need jobs, so we need to cut down all the trees we can. Scientists sit around in their labs and offices and make these recommendations, but they don't know anything about where we live."
We sit around in our labs? We don't know what's going on out there? I'm sorry, but most of the scientists I know spend the vast majority of their lives constantly studying – in the lab, in the field, in the community – in order to make recommendations like this. And a sustainable economy will still have jobs – they just won't be the type that you're used to. You might not make as much, but the days when you could make $70-grand a year just for driving a truck back and forth on a dirt road are coming to close, and they're not coming back. We need to put more value into using the resources we have, and less into just cutting them down and sending them away.
Anyway, this type of willful ignorance of science and how's it's done drives me nuts. I'm a scientist, I'm from a small town, and I spend a lot of time out there looking at what is best for the environment. I don't take any recommendations like this lightly. But when a recommendation like this is made, there has to be some effort by the people out there to understand why it's recommended, what it will really mean for them, and what they can do to mitigate the effects on themselves and on the environment.
Kirsten is a fisheries biologist living in a small town in northern British Columbia. She spends the vast majority of her summer tromping around the wilderness assessing fish habitat and communities for a variety of proposed industrial projects (mostly mining). In the winter she spends the vast majority of her time writing about what she did all summer. In her spare time, she's a bagpiper, skier, fisher, procrastinator, amateur photographer (very amateur) and online lurker. Occasionally, she likes to rant about stories in the news.  She has two cats named Beaker and Bunsen, and a significant other who thankfully feeds them.
Check out her bloggy bits at http://oncorhynchus.blogspot.com!