Skepticism
Alcohol and Night Swimming: A winning combination………. for muuuuuuuurder
I've spent the last 4 days trying to put together a post on chicken pox. I thought I should maybe try to finish it today, but I don't feel like it and there's something else that's been really annoying the living crap out of me: The Smiley Face Killers.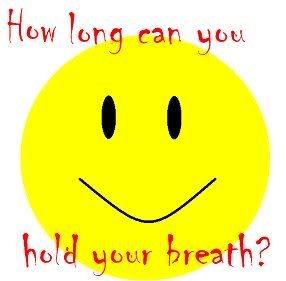 Sure it's been a couple of weeks since they've been mentioned, but that doesn't mean that the annoyingness of it all hasn't been building up in my brain.
For those of you who have not heard of these Smiley Face Killers, they are a national gang of serial killers who follow drunk college aged men around, maybe kidnapping them, killing them then dumping them in a river or lake or maybe pushing them into bodies of water, drowning them. The gang then spray paints a smiley face nearby as a calling card. Pretty terrifying stuff. I mean, spray painting a smiley face where you just killed some random kid? There's no adjective to describe how twisted that is. And no one knows who they are.
So far they've killed at least 22 men across the country and the media is taking this very seriously. They will not rest until every last one of these murderous graffiti aficionados is found and brought to justice… never mind that no one has covered this story for a couple of weeks now in lieu of "real" news (I assume).
22 men, all about the same age, all leaving bars or parties, all drowned, all with the exact same graffiti at the scene. At first glance it seems plausible. But since I have way more time on my hands than a busy journalist like Anderson Cooper or Meredith Viera, I decided to do some research into the facts of this story.
When I first heard about the Smiley Face Gang the number 22 caught my attention. 22 college aged men. 22 is a lot. From what I've seen on Law and Order, this is more than enough to make a definitive connection to a single killer or group of killers. But then there was a tiny little bit of information that made the needle jump on my bullshit detector: The first "murder" happened in 1997.
We're talking about 22 college-aged drunk guys who drown over the last ELEVEN years. For a serial killer, that's still a pretty significant number. But a quick check with the CDC's Water-Related Injuries: Fact Sheet gives us some information on drowning that puts it all into perspective (I know, it's hard to believe I've gone to such lengths in my own personal investigation):
Drowning deaths in 2005 alone totaled almost 3600.
Most people over the age of 15 who drown do so in natural waters (all Smiley's victims were dumped in natural water)
Men are 4 times more likely to die in a drowning accident than women
Almost half of all drowning deaths involve alcohol
If we are to assume that 2005 was a year of epidemic drownings, and the number was triple that of a normal year (more likely than not, though, it was probably pretty typical), that means 1200 people die every year in drowning accidents. Over 11 years, that's 13,000. If 80% of those are male, that's 10,400 men.
When you figure that over ten thousand men drown over those 11 years, it doesn't seem all that ridiculous that 22 of them were drunk, walking home from college bars or parties and fell into a lake or river. I'm pretty sure you see at least triple that many drunk guys taking a stroll by the lake in Chicago on any given Tuesday night. Over the last 11 years, at least 500 of them were hanging out with me. Next weekend I hope to send a few more young males on their stumbly way through the city.
The other major link connecting all of these "murders" is the presence of smiley faces spray painted near where investigators guess is where the men fell into the water bodies were dumped. Perhaps smileys aren't the most popular symbol tagged onto the walls and rocks of America, but come on they're not that uncommon.
Most media accounts show this image as an example of the gang's trademark: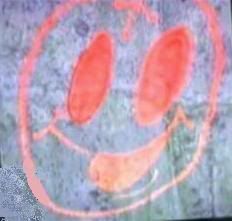 Now that is a pretty unique smiley. If this particular smiley was at all the "crime scenes" I would be out every weekend warning young men to travel in groups. But here are some other examples of smileys: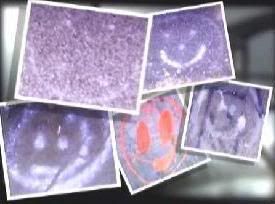 There's nothing these symbols have in common. Some have circles around the faces. Some have noses. One is red. Hell, one isn't even smiling! And I'm not convinced the one on the top left is actually even painted. Perhaps they should have more been more appropriately named "Ambiguous Generic Face Usually Spray Painted Near Possible Crime Scenes Killers" or AGFUSPNCS Killers for short. Or would that not be catchy enough to cause national panic?
If a gang is leaving a trademark to let people know "Smiley Face Killers were here!" I'd think they'd want some more consistency rather than these. They'd want something that would absolutely scream SMILEY FACE KILLERS if not for publicity but at least to communicate with other gang members. There's no use in drawing a smiley that could have been made by any douchebag with an index finger and a paint can.
I also find it fascinating that the retired detectives piecing this all together have come up with an MO. See, this is a group of kids who meet on the intertoobs to schedule murder meet-ups. They get a box truck or cargo van. Then they kidnap the some drunk guy…. then something something something…. then dump the body to make it look like an accidental drowning. Then the guy with the paint can in his pocket finds a rock and sprays a smiley on it. Repeat as desired for 11 or so years.
No one cracks. No one has a crisis of conscience. No one notices groups of men in vans or box trucks outside of bars or parties. No rental car companies report having vans or trucks returned with blood or spray paint. No one has found where the scheduling of these meet-ups takes place (meetup.com? smileyfacegang.wordpress.com?) And the FBI says shut the hell up with your retarded conspiracy theories and go back to enjoying your retirement, detectives, why not try shuffle board or sudoku?
Nope, instead they're all like "Psssssh whatever. No one gets on Anderson Cooper 360 for playing shuffleboard. We need to keep families from getting closure on the untimely deaths of their loved ones to get on that show."
And CNN was all, "Nothing like causing panic over graffiti to get ratings!"
But in all seriousness, it's probably a good idea to stay away from bodies of water when you're walking home drunk.  You will probably not get kidnapped and murdered by artistically-challenged spray-paint can owners, but you could fall in the water and you won't really be any better off than if you got kidnapped.