You know how you go into Starbucks in the morning, pre-caffeinated and still groggy enough to believe $5 for coffee is reasonable without ever feeling the overwhelming urge to rape and sodomize every breathing being between the barista and your Prius? Well, I hate to be the bearer of bad news, but that's all about to change.
For the next "several weeks" Starbucks cups are donning the explicit pornographic heaving breasts of the double tailed mermaid in their logo. But worse than the breasts is the split between the tails is also visible on the cups and is clearly suggestive of a prostitute spreading her legs.
So naturally, the next step is for the Christian group The Resistance to boycott Starbucks… for making them look at the vulgar crotch of a mermaid.
(Pornographic image after the fold)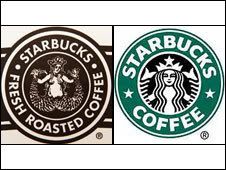 The Resistance, a US-based Christian group, has called for a national boycott of the coffee-selling giant.

It says the chain's new logo has a naked woman on it with her legs "spread like a prostitute… The company might as well call themselves Slutbucks".
("Slutbucks"? That's the best you could do? I would at least have gone with StarbuXXX.)
I guess the good news is that the cups are already being used and so far very few people have gone on mermaid fucking rampages after ordering a Triple Venti Nonfat Mocha.
Starbucks is defending their use of image saying
the image – based on a 16th century Norse design of a mermaid with two-tails – is not inappropriate.
In fact, Starbucks owner Howard Schultz describes the logo as "Reubenesque" and "seductive" like their coffee.
Mr Schultz, you apparently do not understand that a coffee shop is no place to be seducing good Christians with fishboobs!
Does this seem all too reminiscent of Troy McClure and A Fish Called Selma?
Just be wary of anyone drinking coffee at the Shedd Aquarium.