I didn't think it was possible, but the bottled water situation just got more ridiculous. Bottled waters claiming to originate from mountain springs on foreign horizons are sold at a premium every day. Now you can buy holy water, blessed by a priest in Southern California. I'll give Christians this – they know a good business opportunity when they see it. The bottled water market is very profitable.
The target market of this product isn't limited to the thirsty and pious. Evidently, some buyers plan to bless their house, personal belongings, and work items. But be careful to read the warning label before using. Is it the standard "Don't spray windex in your eye"? Or the ever-present "may cause nausea, vomiting, sleeplessness, and in some cases, death"? No, in this case sinners and evil-doers are singled-out and warned to expect a litany of plagues including, but not limited to, rashes, burning, bloodshot eyes, itchiness, and vomiting.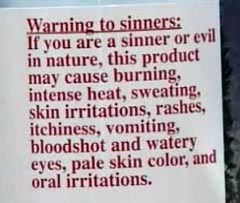 Now, I thought all humans were sinners and evildoers, which was the whole point of Jesus dying to save our sorry asses. So does the warning apply to all humankind? If not, they need to have their lawyer to revise the content to specify that only those sinners and evildoers who are NOT in any way redeemed by Christ may experience the side effects. I also recommend mentioning that consumption of holy water results in a particularly swift and severe reaction in vampires. That's a lawsuit waiting to happen.
Evidently the water is a hit, as evidenced by the 3,000 bottles sold in the first quarter. (Sounds to me like they budgeted with low expectations, but that's besides the point.) Critics ask how consumers will know that the water was truly blessed by a preist. Brian Germann, pioneer of the holy water movement, answers, " I guess you would have to have a little bit of faith." At least he knows his target audience.