Last week I wrote about the resignation of Harvard University's controversial president. The search is now on for his replacement, and members of the academic community are happily compiling a laundry list of qualifications.
For starters, she should be a she. It would be nice, they sigh wistfully, if maybe she were black. Some sort of minority, at least. A scientist would be ideal — the sciences need a strong proponent to lead Harvard into the future. Someone politically savvy, who knows how to listen. Someone firm, yet flexible. Someone with sparkling eyes and full, pouty lips. Okay, I threw in the last one myself. It's funny, though. Go read the linked article above and tell me how amusing it is to hear people compiling their own fantasy university president.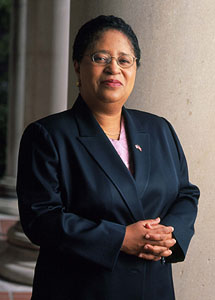 One name that has been thrown around a lot is Shirley Jackson. No, not her, the other one. She appears to have everything the peanut gallery is asking for — smart, black, female, scientist, with plenty of experience as an admin. Wait, did I say "smart?" I meant "brilliant."
Nannerl O. Keohane has also been suggested. Pros: Feminist, (political) scientist, lots of admin experience. Cons: Feminist, political scientist, white. That last bit there was tongue in cheek, if you weren't following.
From the Boston Globe article:
Donna E. Shalala, health and human services secretary in the Clinton administration, would be perfect, suggests Paul S. Grogan, president of the Boston Foundation, because she's "tough" and "politically savvy."
I misread this earlier and thought that it was Donna Shalala who was recommending Paul Grogan. I did some Googling and was shocked to see that Paul wasn't a "she" at all. Then I reread the paragraph. Needless to say, I won't be waiting by my phone for Harvard to call me with a job offer.
I'm not sure where the accent goes on Shalala's name, but in my head it sounds like the refrain from a song in the Little Mermaid. This is a definite pro.
I've always been wary of job searches that begin by specifying a desired gender or skin tone. In this case, though, I support the concept. There are definitely very competant candidates, so I don't think it would come down to the University having to overlook a superior male candidate in favor of a female. Also, a female scientist may have a unique perspective on how to attract and keep other women in science and research, not to mention the good that could be done by simply having a strong woman hold such a powerful and visible position, showing others that it can be done.
An old white guy could probably get the job done, too. My money is on Paul Grogan.
Oh, by the way — there's a new option where you can register for this blog. I recommend you all do it at once, despite the fact that I have no clue what it's for.
Tomorrow: cake!